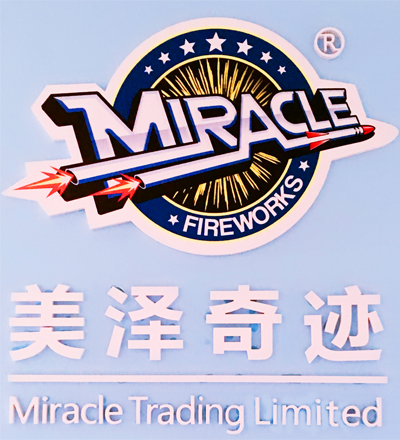 Miracle Trading Limited is one of the most reliable consumer-fireworks suppliers from China and specializes in research, development, manufacture and export of finest fireworks in China.
MIRACLE FIREWORKS, exclusively distributed by Miracle Trading Limited, is one of the most popular brands in the international fireworks marketplace. Our Miracle brand products are hand- picked to provide high quality, top design and excellent service, along with continuous innovation, with a wide variety of effects plus great performance to WOW you and your customers. Our mission is to supply you with the best quality and value for your fireworks dollars. In other words you get, "More Bang for your Buck" with Miracle Fireworks.
We have established a strict system of quality control that ensures both quality and safety. We do quality control at three steps: components, semi-finished and finished products.
We have 2 big professional manufacturing factories, which are located in Liuyang and Liling city. They ensure our high quality, continuous innovation and timely shipment. Also, we have longstanding good business relationship and cooperation with more than 100 factories in China.

For 2023 season, we bring you unique cakes, powerful long canister shells, professional racks, premium artillery shells, nice assortments, cute fountains, rockets, firecrackers, novelties and etc. With the current high freight circumstances, we also offer the value line cakes and make some bigger items with compact size to help save your shipping cost. Please look over our catalog to get an idea of what we offer and what you want for your fireworks enjoyment and display.