HOW ARE 500 GRAM CAKES PRODUCED?
A 500 gram cake (also called a 500 gram aerial repeater) is a multi-shot firework with up to 500 grams of pyrotechnic compound inside the product. The product itself is made up of various cardboard cylinders or tubes that are wired together by a single fuse and bundled with a tight outer wrapping. The cardboard tubes are often cut from long sections of tube that are rolled by hand. Some Chinese factories have recently introduced automated tube rolling and cutting machines, which has greatly increased the production of 500 gram cakes.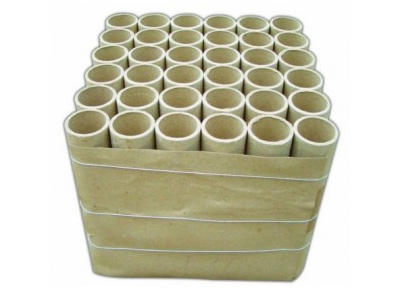 Each tube contains a single shot, and there may be a few tubes (perhaps 6 -9) or many tubes (sometimes as many as 200) in each cake. If there are just a few tubes, then the shots will be quite large since all of the compound can be used to produce just a few shots. By contrast, if there are many tubes then the shots will be smaller. After all, if 500 grams of compound must be shared by 200 shots, then naturally they will be small. Most 500 gram cakes fall somewhere in between in terms of the number of shots, which allows the designer of the cake to mix some small shots with some larger shots. Each tube is filled with a mixture of chemicals that is designed to produce a certain visual effect. When lit, the fuse ignites each cylinder one by one, launching the shots from the tubes. The cake is basically a fireworks show in a box. The user simply needs to light the fuse, stand back, and enjoy the show.
Smaller aerial repeaters are often called 200 gram cakes. They are similar in performance and construction but contain up to only 200 grams of pyrotechnic compound. These 200 gram and 500 gram cakes have quickly become the most popular type of consumer fireworks. Most backyard shows are built around a good variety of cakes. Miracle Fireworks has a huge arsenal of 200 and 500 gram cakes that are designed and produced just for US market. Please visit our 500g Cakes page. Watch some videos and choose your favorites!